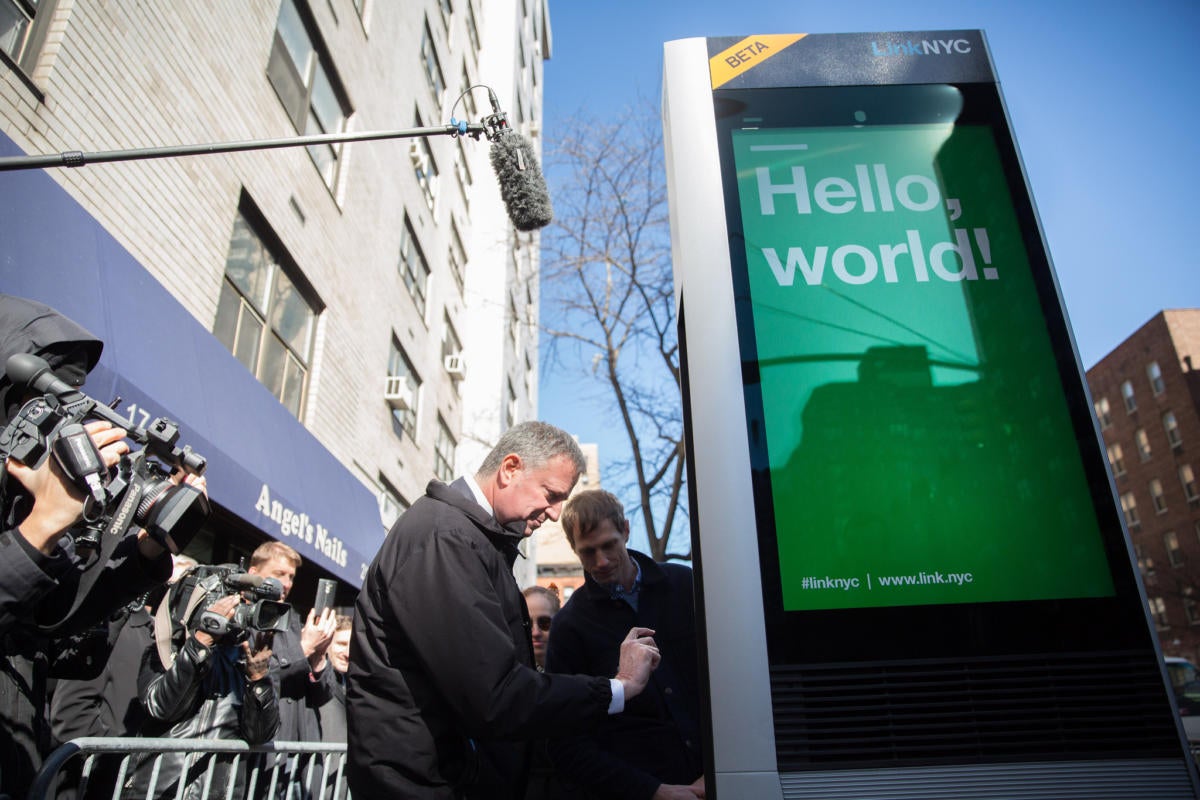 New York City Mayor Bill de Blasio tried out a LinkNYC Wi-Fi kiosk soon after test units were rolled out.
A team of city leaders helped shape the project in 2015, which is now under franchise by a consortium called CityBridge that includes telecommunications heavyweight Qualcomm, among others. CityBridge won a 12-year franchise from the city to build the kiosks on the footprint of thousands of former phone booths. The organization is investing more than $200 million to install fiber optic cable for the kiosks, which are funded by revenue from advertising -- large, full-color displays on the sides of the kiosks.
Among a number of challenges identified by the New York Times and others, some critics have questioned the privacy of personal data of users of the machines. There is a guarantee to users that any personal identifiable data they enter into the tablet will be encrypted and that user data won't be sold to third parties. (LinkNYC does collect some user data to monitor how well the system is working and determine how many people are using it, primarily to be able to sell ads.)
City Wi-Fi: Too much of a good thing?
When they launched in January 2016, New York City's LinkNYC kiosks offered free web browsing via built-in Android tablets, but browsing was shut down in September "to curb long-term use of the kiosks," according to LinkNYC's website. There were reports early on that users were lingering at the kiosks for hours, browsing porn sites or playing loud music, according to the New York Times and other sources.
At one point early in 2016, LinkNYC installed porn filtering software and dimmed the volume and brightness of the tablet displays at night to respond to community objections. But by September, amid continued complaints, LinkNYC removed the browsing capability.
More than 450 kiosks were installed by Dec. 1, 2016 in Manhattan, Queens and the Bronx. The project rollout fell behind a midsummer goal of 500 kiosk installations, partly because access was hindered to manholes and other under-street locations for fiber optic cable, according to a LinkNYC spokeswoman.
However, the total goal of more than 7,000 kiosks is still envisioned, and the beta project is moving ahead. LinkNYC says its core mission is to provide free phone calls and free, fast Wi-Fi, adding that a team is investigating adding new features such as a direct portal to a voter registration form.
City leaders from around the world are watching how LinkNYC unfolds. That's because free public Wi-Fi has a spotty record -- at least in some large cities. Barcelona promotes its free Wi-Fi at beaches and other gathering spots, but maintaining outdoor equipment and keeping speeds fast enough for users has clearly been a challenge. Seattle and Mountain View, Calif., offered free Wi-Fi as early as 2005, then backed off due to high costs or limited wireless capacity.