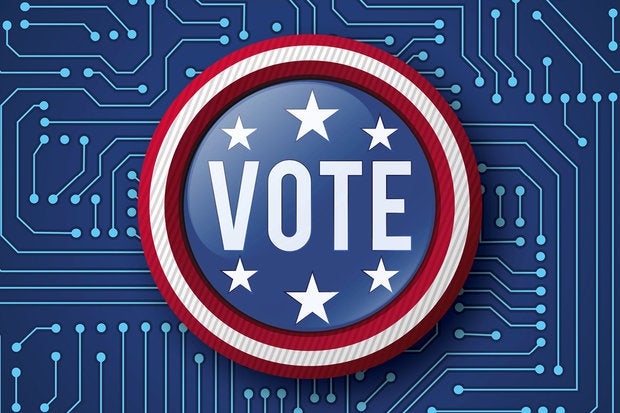 Social media is more than posts of cat videos and political rants as Facebook showed by getting hundreds of thousands of people to register to vote this fall.
"Facebook has demonstrated the power of social media to engage more people to register to vote, helping thousands take a big step to casting a ballot this November," said California Secretary of State Alex Padilla in a statement. "For many who may be new to the political process, an invitation to register can be a powerful nudge to get involved."
Facebook dove into the voter registration process this fall. On Sept. 23, Facebook sent reminders to its U.S. users, who were at least 18 years old, about registering to vote. The effort, which ran through Sept. 26, provided a link to voter registration sites at the top of Facebook's News Feed.
According to Padilla, it caused a "major surge" in online voter registrations in California.
The state reported that on Sept. 23 alone, 123,279 Californians completed registrations or updates of their registration information on the Secretary of State's online voter registration site. The next day another 43,888 registrations were completed online, and on the 25th, there were 29,256 more registrations or updates.
Padilla said that before the Facebook reminder went up, there was an average of 9,307 completed registrations or registration updates per day in September, and many of those registering were younger voters.
California reported that 23.8% of these registrations and updates were from people between 17 and 25 years old. Another 29.7% were between ages 26 and 35.
Facebook, which has provided users with Election Day reminders for the past eight years, wanted to do more this year to encourage voter registrations.
"Going back to 2008, we've been reminding people on Facebook to vote on Election Day and directing them to information on where to vote," Samidh Chakrabarti, Facebook's product manager for civic engagement said in an email to Computerworld. "This is the natural next step. We want people to have a voice in the process, and getting registered means that there's one less hurdle for them."
Facebook wasn't the only social network to get in on the election process.
On Sept. 26, Google's doodle encouraged voter registration, and Instagram had a voter registration push similar to parent company's Facebook's effort.
Facebook's efforts definitely got the most attention.
The Center for Electronic Innovation & Research, a new organization focused on increasing voter engagement, said that almost every state reporting data showed a "massive increase" in total online voter registration activity on Sept. 23 – the day Facebook's effort began -- compared to a week earlier.