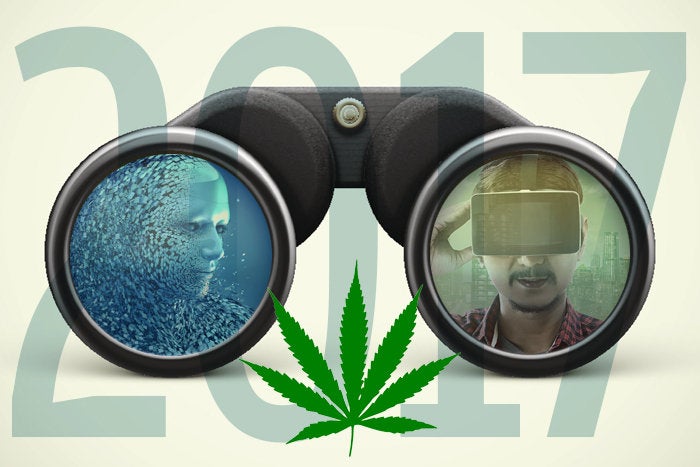 According to a set of intelligent humans interviewed for this story, artificial intelligence (AI) and machine learning are going to help drive the tech economy in 2017.
When CIO.com posted a query on Help a Reporter Out, a site designed to help journalists connect with sources, asking about startup trends to watch in 2017, the overwhelming majority of respondents pointed to AI. This coming year and beyond, AI will help companies "disrupt sectors that haven't been fully disrupted," says Anthony Glomski, principal of AG Asset Advisory, a financial advisory firm. "AI is in its beginning stages with massive potential impact."
Here are eight startup categories and trends experts believe will be big in 2017.
1. AI and machine learning startups
In 2016, large companies invested resources in making tech smarter and better at predicting things using AI, according to Ludo Ulrich, head of startup relations at cloud CRM provider Salesforce. Technology simultaneously advanced enough to let smaller companies take part in the AI revolution, he says, and universities started to offer classes meant to educate students about AI's possibilities. These developments are "creating a larger talent pool" of AI-savvy workers, which will help foster innovation at a much quicker pace in 2017, according to Ulrich.
"Now that the true importance and impact of AI has been discovered and has become more accessible than ever before, 2017 will be the year where the knowledge that used to be possessed by a select few will now become imbued throughout the tech landscape — allowing for younger startups to truly innovate in the space," Ulrich says.
In the past, only a few companies had data scientists on staff and access to machine learning resources, according to Ulrich. Today both are "basically expected," he says.
At its fall 2016 Symposium/ITxpo, research firm Gartner identified AI and machine learning as one of its top 10 strategic tech trends for 2017. "Applied AI and advanced machine learning give rise to a spectrum of intelligent implementations, including physical devices (robots, autonomous vehicles, consumer electronics), as well as apps and services (virtual personal assistants and smart advisors)," according to David Cearley a Gartner vice president and fellow. "These implementations will be delivered as a new class of obviously intelligent apps and things as well as provide embedded intelligence for a wide range of mesh devices and existing software and service solutions."
Wells Fargo is among the many enterprises that are testing AI technology, according to Braden More, the bank and financial services company's head of payment strategy. "We're exploring how AI technology can enable customers to conduct a banking transaction while on social media," he says. "We're also exploring AI virtual assistants that can proactively support customers through alerts, reminders and contextual suggestions." And AI can be used to detect bank fraud, Braden says.