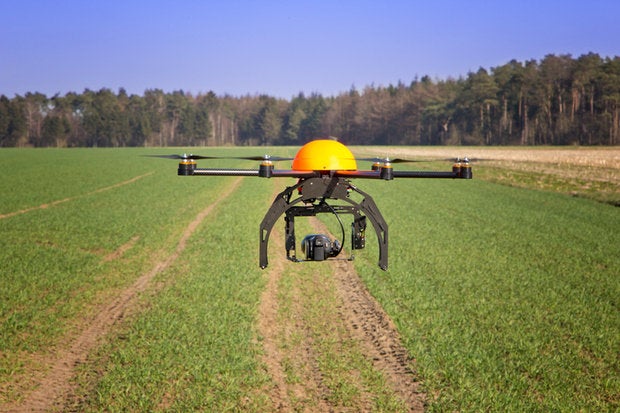 Commercial drones can take to the skies in the U.S. without needing a special waiver beginning today, and that will lead to a vast amount of new data and use cases built on that data, says Mark Miller, vice president of Global Aviation at The Weather Company.
Today the Federal Aviation Administration released new rules governing the operation of commercial drones.
Formerly, small commercial drones could operate only with a special exemption under Section 333 of its regulations that could take months to obtain. The new rule, known as Part 107, requires that drone operators have a remote pilot certificate with a small Unmanned Aircraft Systems (UAS) rating, or that they be directly supervised by someone with a certificate. Drone operators have to keep their aircraft within visual line of sight and can operate their drones only during daylight. Further, the combined weight of a drone and any packages it carries can be no more than 55 pounds.
New air-based avenues of data
Even with these restrictions, Miller says the capability for commercial operators to access low-altitude airspace — generally below 500 feet — will open up whole new vistas of data and use cases.
"There's such an amazing array of potential uses of drones," he says.
In precision agriculture, drones can help optimize crop yields through targeted application of pesticides and inspection of local terrain to ensure irrigation is applied as efficiently as possible. In disaster recovery and response, drones can do initial surveillance without putting first responders at risk. For insurers, drones can help determine the impact of events ranging from hail storms to tornados. Utilities can use drones to inspect their assets and oil and gas companies can use them to inspect infrastructure like pipelines. Land use analysis, photography and videography and, of course, the atmospheric sciences all stand to benefit.
Many of the use cases will depend on drones as observation platforms.
"There's a tremendous amount of activity that's going to be unleashed," Miller says.
A deal for drone operators
In preparation for this activity, IBM's The Weather Company sealed a deal earlier this month with AirMap, a specialist in low-altitude airspace management solutions. With The Weather Company's help, AirMap will deliver real-time, hyperlocal weather data directly to drone operators via AirMap's app for iOS and Apple Watch as well at its APIs for developers.
"Part 107 is a major milestone in drone regulation for visual line-of-sight operations," Ben Marcus, CEO of AirMap and an airline transport rated pilot and flight instructor, said in a statement earlier this month. "The availability of real-time hyperlocal weather data from The Weather Company will help today's drone pilots avoid hazardous and severe weather, and will be absolutely critical for safe, efficient flight planning and operations of more autonomous, beyond visual-line-of-sight drones."