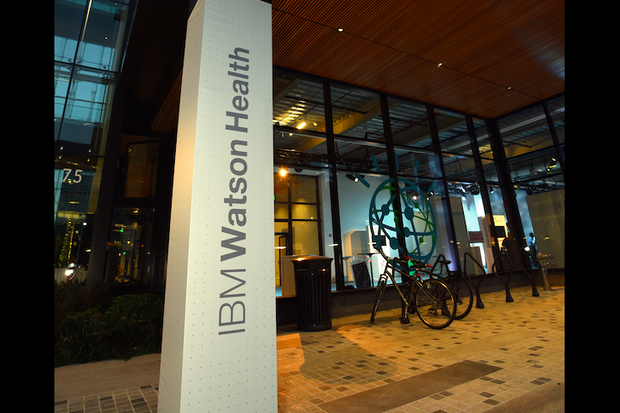 Credit: IBM
IBM's Watson Health artificial intelligence unit has signed a two-year joint-development agreement with the U.S. Food and Drug Administration (FDA) to explore using blockchain technology to securely share patient data for medical research and other purposes.
IBM Watson Health and the FDA will explore the exchange of patient-level data from several sources, including electronic medical records (EMRs), clinical trials, genomic data, and health data from mobile devices, wearables and the "Internet of Things." The initial focus will be on oncology-related information.
"The healthcare industry is undergoing significant changes due to the vast amounts of disparate data being generated. Blockchain technology provides a highly secure, decentralized framework for data sharing that will accelerate innovation throughout the industry," IBM Watson Health Chief Science Officer Shahram Ebadollahi said in a statement.

Credit: IBM Watson Health. (Click for larger image).
Blockchain technology, which has been most closely associated with the Bitcoin cryptocurrency and payment system, is a distributed, tamper-proof public ledger of transactions that has been used to securely record loans, transfer stocks and business contracts. Blockchain works through a peer-to-peer computer network exchange where each node in the chain keeps a copy of the ledger and can trust others' copies because of the way they are signed using encrypted hash keys.
Transactions are recorded as blocks of data to be added to the chain; each block contains a unique cryptographic hash that is used to track that block as well as others in the associated chain. Data within the blocks cannot be modified and the chains are secure by design.
Electronic medical records (EMRs) carry a mass of data, including demographics, treatment and genomic information, and act as repositories for biomedical research. But because data in EMRs is the most highly sensitive, there has been little progress in sharing information for research and clinical use, such as aiding in physician decision making.
IBM's researchers believe that by keeping an audit trail of all transactions on an unalterable distributed ledger, blockchain technology establishes accountability and transparency for data exchange.
"Transformative healthcare solutions are possible when healthcare researchers and providers have access to a 360-degree view of patient data. Today, patients have little access to their health data and cannot easily share with researchers or providers," IBM said.
IBM recently surveyed 200 healthcare executives, both with insurance payers and medical providers, and found 16% expect to have a commercial blockchain service at scale in 2017 for sharing data securely.
Most have deployed EMRs but not all effectively
In 2004, President George W. Bush called for establishing EMRs for most Americans by 2014 and created the Office of the National Coordinator (ONC) for Health Information Technology to lead the way. The Obama Administration then pledged $50 billion toward the implementation of EMRs, which were phased in under the "Meaningful Use" program. That program penalized healthcare facilities that didn't implement the technology.