While most healthcare facilities have introduced EMRs, many are still not able to securely share data -- even with other hospitals and clinics in their own healthcare group.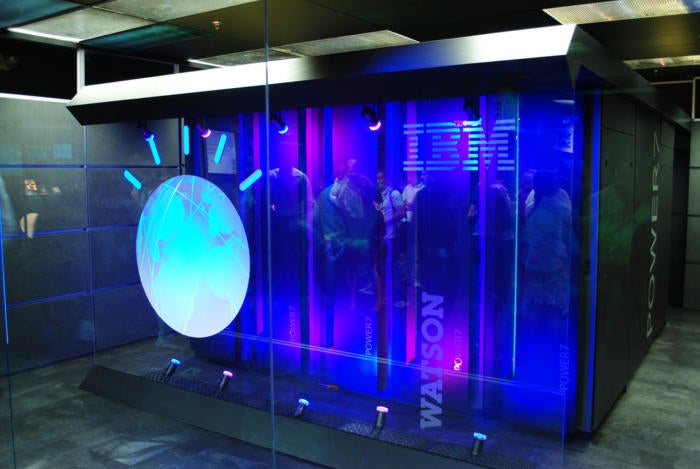 IBM's Watson supercomputer is now functioning as a cloud offering compute resources as a service. Credit: IBM
At the end of 2015, only 41% of non-federal acute care hospitals had clinical information from their patients' outside encounters at the point-of-care, according to the ONC.
"Additionally, when seeking care for a medical problem within the last year, about one in three individuals reported experiencing one or more gaps in information exchange," the ONC stated in a report.
The use of certified EMR technology has been proven useful for the electronic exchange of healthcare information between providers and insurers. It has also been shown to improve quality of care and workflow. In addition to more obvious uses, EMR data is also seen as a invaluable for performing large-scale but relatively low-cost pharmaceutical, medical and healthcare analyses. To date, however, little progress has been made toward that because of privacy and security issues.
The use of secure patient medical data can be essential for the development of new drugs, and is key in enabling personalized medicine, where medical treatments are tailored to a specific patient based on genomics and other factors.
Research has found that using patient data with machine-learning algorithms can drastically improve both the cost and quality of healthcare through simulation modeling.
"Giving patients the opportunity to share their data securely, for research purposes or across their healthcare providers, would create opportunities for major advancements in healthcare," IBM and the FDA said in a joint statement.
The two plan to look at how a blockchain framework can aid public health by supporting important use cases for information exchange across a wide variety of data types, including clinical trials and "real world" data.
Patient data from mobile devices, wearables and other connected devices, for example, can help doctors and caregivers better manage population health, according to IBM.
IBM brings extensive expertise in blockchain technology. For example, IBM is a founding member and key contributor to the Linux Foundation's Hyperledger project. For its part, IBM will work to define and build a scalable and decentralized data sharing ecosystem.
IBM Watson Health and the FDA plan to publicize initial findings in the use of blockchain for healthcare data sharing later this year.