Apple CarPlay and Android Auto are competing -- and winning -- against traditional in-vehicle infotainment system makers. Expect to see more carmakers announce both the smartphone mirroring applications to be native to their vehicles. Credit: Honda
In just five years, ever more sophisticated in-vehicle infotainment (IVI) systems that stream music and offer real-time navigation will generate up to 98 percent of mobile-to-mobile (M2M) data traffic, according to a new report.
The Juniper Research report indicates that ever-more popular applications such as Apple CarPlay and Android Auto that mirror your smartphone interface to your car's IVI will generate massive amounts of cellular M2M data traffic.
M2M technology will also help advance the development of autonomous driving systems in the future. Cellular vehicle-to-vehicle (V2V) technology, enabled through M2M, is expected to be the cornerstone of the system over the coming years, the report said.

Freescale. Within five years, over-the-air software upgrades are expected to be commonplace in new vehicles.
The study also revealed that data-intensive applications such as Internet radio, music streaming apps and information services will generate approximately 6,000 petabytes (a petabyte is 1 million gigabytes) of data annually by 2021 -- the equivalent of more than 300 billion hours of music streaming.
In-vehicle 4G Wireless Subscriber Identity Module (SIM) Cards will provide "over-the-air" (OTA) vehicle updates, as well as subscription updates for drivers and passengers. Many automakers today are already rolling out OTA software update capabilities in their vehicles, alleviating the need to go to a dealership or plug in a USB stick to upgrade IVI systems such as navigation maps.
With the higher M2M vehicle traffic, wireless providers will need to ensure their networks are able to handle the increase in data, especially in urban areas, the report noted. Future smart city systems, such as smart parking and smart intersections, will further drive data usage and strain on networks.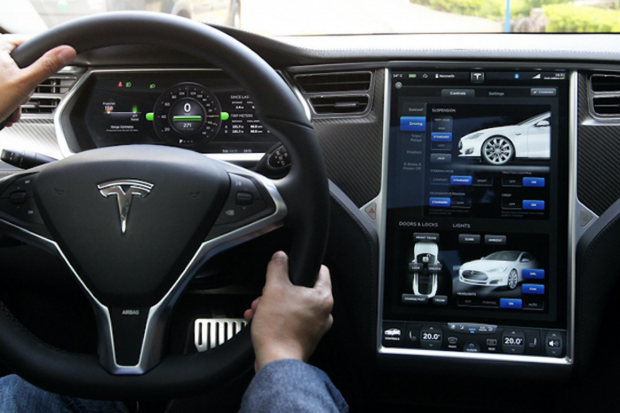 Tesla. The Tesla Model S's 17-in infotainment screen.
Automakers are already developing V2V and vehicle-to-infrastructure (V2I) systems that allow automobiles and trucks to communicate with each other and traffic control systems around them.
CarPlay and Android Auto are becoming standard in many new automobiles. In fact, CarPlay is expected to be installed in 24 million vehicles by 2019, according to ABI Research.
CarPlay is competing with proprietary interfaces, such as Ford's Sync system, as well as industry open-source specifications such as MirrorLink and GENIVI, which are championed by industry groups.
At the same time automakers are installing M2M technology in their vehicles, other key vertical markets will see significant adoption of data networks across an array of key verticals, including healthcare, agriculture, smart metering and smart home automation.