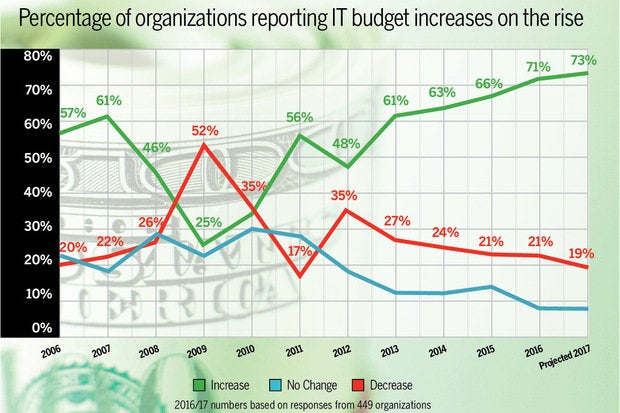 To say that CIOs have full plates – from guarding against breaches to cloud migration to embracing innovation – is an understatement. But given the growing recognition of IT's importance to organizations of all kinds, it's also a tremendous time to be a CIO despite the complications and demands of the job.
These are among the findings of the Society for Information Management's (SIM) 37th Anniversary IT Trends Study, which is being released to SIM members this week as a lead-in to next week's annual SIMposium conference that's taking place in Connecticut. Non-members can get a peek at the study next week.
The grabbiest element of the wide-ranging survey, taken by 1,213 individual SIM members (including 490 CIOs) at 801 mostly U.S.-based organizations, is a section on "Most Worrisome Technologies" (i.e., "what keeps you up at night"). Keep in mind that we're talking about pretty big organizations here: their median revenue is $500 million and their median annual IT spending is $10 million.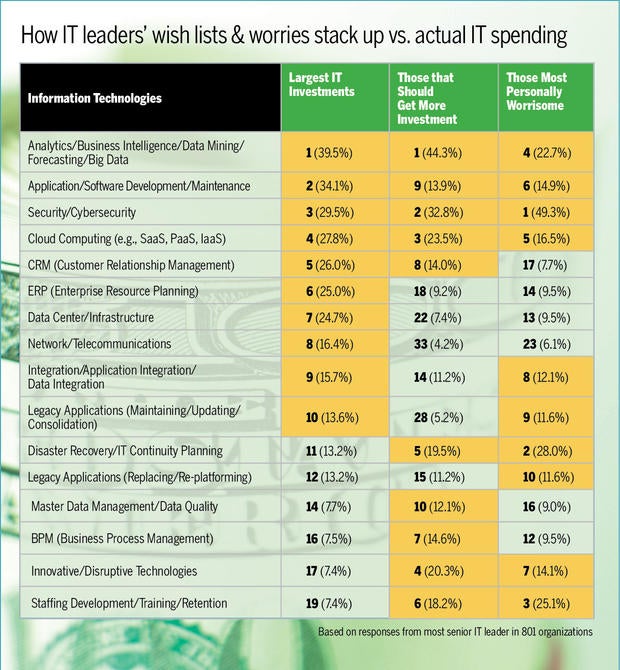 Security/cybersecurity/privacy topped the chart as IT Leaders' Personally Most Important/Worrisome IT Management Issue, followed by topics such as disaster recovery, IT staffing and analytics/business intelligence/big data. The study points out that IT Alignment with the Business has been the top IT management issue for 4 years in a row, reflecting "the continuing need to keep IT aligned with the ever-changing organization."
As for staffing, the fact that IT leaders consider it a huge worry isn't surprising – it ranks 19th out of 19 on a list of organizations' largest actual IT investments (decisions on which are typically shared among CIOs, CEOs, CFOs and other executives). "This is likely troubling to IT leaders as the capability, quantity and satisfaction of IT personnel within the organization affects the ability of the IT organization to engage in important projects in a timely manner to deliver business value," the survey reads.
A similar sort of discrepancy, between IT leaders' worries and actual IT investments can be seen for IT continuity planning/disaster recovery. "Time will tell if the recent IT debacles at both Southwest and Delta airlines may change this situation," the study reads.
Innovation on the rise
The same three most worrisome issues have been among the top 3 for 4 straight years, with only Innovation as a newcomer to the top 10 this year. While CIOs have plenty of day-to-day operational concerns, including business continuity/disaster recovery, the fact that Innovation has cracked the top 10 issues shows that IT leadership is looking strategically to the future as well.